Mark Adams: Mural & Nave Windows
In memory of Mark Adams (1925-2006)
Research by Mary Ann Hurtubise
Source: Johnson, Robert Flynn, Paul Mills and Lorna Price. Mark Adams (San Francisco: Chronicle Books, 1985).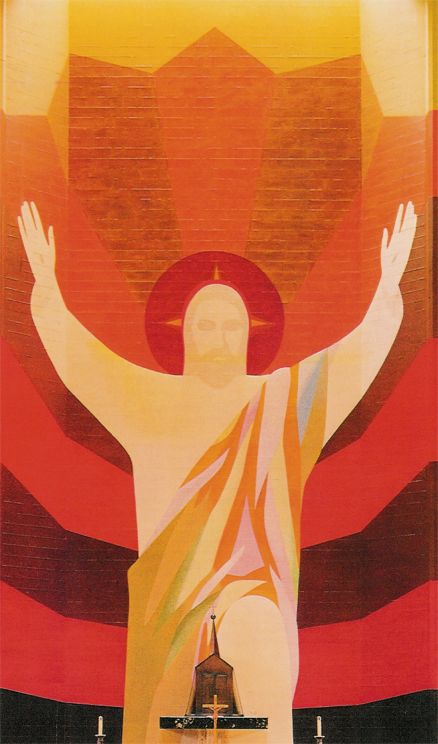 The mural: Within St.Thomas More Catholic Church, there is a brilliant portrayal of Jesus Christ's Passion and Resurrection as displayed by Mark Adam's mural, Resurrection, and his bays of stained glass nave windows. Mark Adams is a West Coast artist well known for his interest in liturgical art by his murals, water colors, and stained glass windows. His art work is displayed in many Christian churches and synagogue settings. In 1967 he was commissioned by Saint Thomas More Catholic Church in San Francisco to design a mural for the main altar area, and then again in 1974 he was commissioned to design the stained glass windows. Being Catholic himself, these works of art reflect his interest–and the St. Thomas More community's interest–in liturgical art during this time period.
In Adams' Resurrection, Christ rises from the tomb all white and silver, draped in color, a giant figure, arms outstretched, orange and gold rays of light behind him. The lower background colors are in red and blacks, the colors of the Passion; they move upward toward oranges and golds, softer, more glorious colors. Christ's robe is in bright pastel colors "like a promise of spring," Adam says. Behind Christ's head is a narrow halo of fluorescent paint. It achieves a surprising separation of Christ's head from the background.
Christ is shown from the knees up; he is standing down in the tomb, which lies unseen below the church floor level, and is just stepping up onto our floor and into our world. As vast as the church space is, Adams suggests another awesome space, that of the tomb below. He has created a vision of Christ grand enough and large enough to conquer both these spaces.


The nave windows: The stained glass nave windows represent the sky at the moment of the Resurrection. They depict not the light but darkness, the darkness that came upon the face of the land at midday when Christ was crucified. One looks out the windows at the sky entirely filled with heavy, ominous clouds, deep rubies, browns and blacks, purples and greens. Adams says of these windows, "Although it is the morning of the Resurrection, the sky still has the colors of the Passion in the clouds; it is a turbulent sky, and yet the stars are shining through, and dawn is beginning to appear at the bottom."
The glass chosen for the windows at Saint Thomas More is traditional hand-blown antique glass made in France, Germany, and England. Adams tells of making his selections: "I went to the importer's warehouse in New York to pick out the sheets I wanted. These dark, rich reds were created because there's a ruby flashing over another color, a pale blue, or ruby flashed on a pale green. They're the kind of thing you can get by choosing each sheet yourself." The bright stars in these windows are achieved in a traditional manner. "They're painted with black glass paint that is actually ground glass with a binder; the fine rays are scratched out and then fired in a kiln."
Adam describes the long process of developing each window: "I worked from the architect's blueprints and made a scale sketch, a transparent model of the windows with the mullions painted in acrylic on clear acetate. Behind that, I'd work layers of tracing paper and transparent inks and watercolors. From that I blew up each panel in a full-size black and white cartoon. Each shape was numbered to correspond to the colors of glass I had chosen in New York, and after they were cut, we would set them up on a sheet of plate glass–what they call easeling–so that we could see light through them and see what the color relationships were. Often we would make changes in color or value, and, if necessary, would recut the piece. Then they were leaded and soldered on one side. Before the other side was soldered, we would set them up in the window for a final check to be sure that they were right."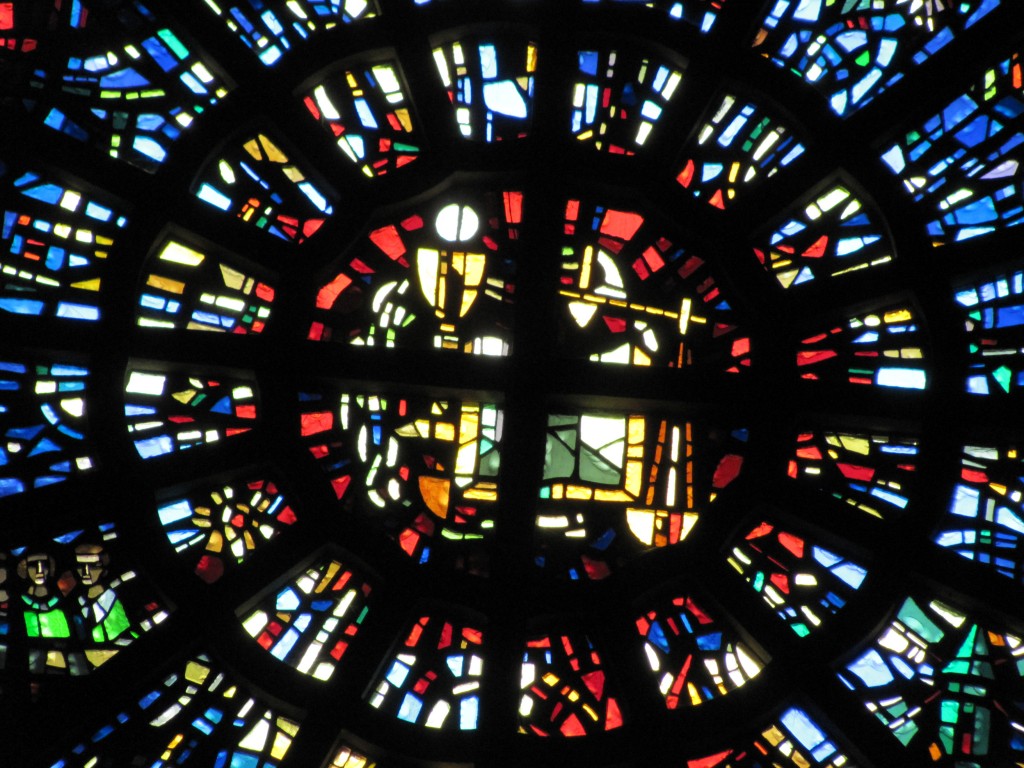 The Rose Window